Our Services
We take pride in providing the highest quality roofing services to homeowners and businesses in Anoka, MN. Whether you need a new roof installation, repair, or snow removal, we are the experts you can trust. Our team of skilled professionals has the knowledge, experience, and tools to handle any roofing project with ease. Keep reading to learn more about our roofing services and why you should choose us.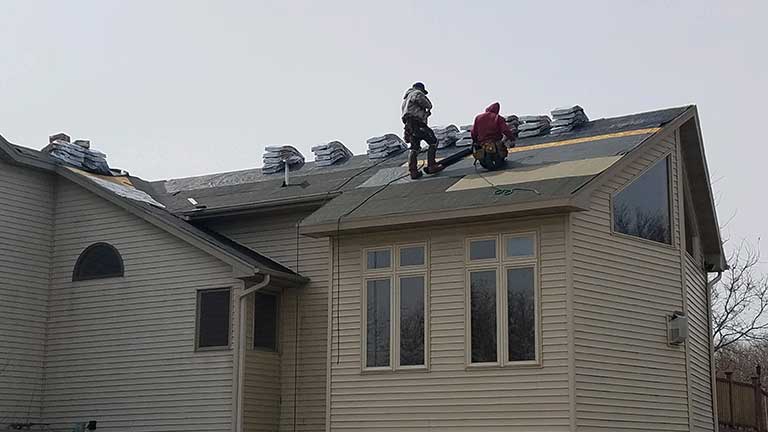 Roof Installation and Repair
At A-Line Roofing, Inc, we specialize in both roof installation and repair services. Whether you need a new roof for your home or business, we can provide you with the perfect solution. We work with a variety of roofing materials, including asphalt shingles, metal roofing, and flat roofs.

Our team will help you choose the best option for your specific needs and budget.
If you need roof repair services, we can help with that too. Our team can quickly identify the issue and provide a comprehensive solution. We can fix leaks, replace missing shingles, repair storm damage, and much more. Our team is equipped with all the necessary tools to complete the job correctly and efficiently.
Snow Removal
Living in Anoka, MN means experiencing harsh winter weather conditions. Snow can accumulate on your roof, creating a safety hazard and causing potential damage. At A-Line Roofing, Inc, we provide professional snow removal services to help keep your home or business safe. Our team has the necessary equipment and expertise to handle any size of snow removal job.
Why Choose A-Line Roofing, Inc?
There are many reasons to choose A-Line Roofing, Inc for your roofing needs. Here are just a few:
Experienced professionals who take pride in their work
High-quality materials and products
Competitive Pricing
Comprehensive warranty on our work
24/7 emergency services
Contact Us Today
If you need roofing services in Anoka, MN, don't hesitate to contact A-Line Roofing, Inc. You can reach us at (763) 422-9944, and our team will be happy to answer any questions you may have. You can also fill out our online contact form, and we will get back to you as soon as possible. Let us help you keep your roof in top condition all year round.